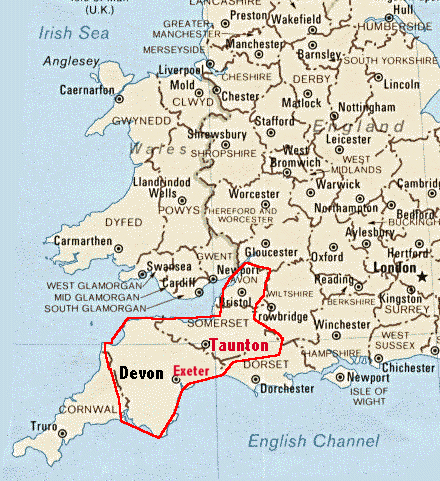 Below is a couple of links to other sites you may find interesting.
One is on Cullompton, where William and Sarah Bailey were married in 1808:
http://www.cullompton.org
and the other shows a panaramic view from the top of the town's church:
http://www.panoramas.f9.co.uk
The origin of our particular family of Bailey is the Southwest of England and in particular the counties of Devon and Somerset. There the surname Bailey, or variants, is common along the main travel route, now the M5 motorway, from Bridgwater to the north near the Bristol Channel through the lush Vale of Taunton Deane and down the Culm River to Exeter, approximately 60km to the south. In particular, it is suspected, our ancestors lived between Taunton, in Somerset, and Cullompton, in Devon.
The distribution of Baileys along the route from Bridgwater to Exeter, would suggest the appointment by the Normans of bailliffs in each town or village that had been established under their rule. While the name taken by descendants became common, there is little chance that Baileys of one area were related to Baileys of another and until recent centuries when people travelled on a larger scale, one could probably trace one's line of Bailey with a degree of accuracy to a certain area.